Fine Art Oil Paintings
Sauna in the Woods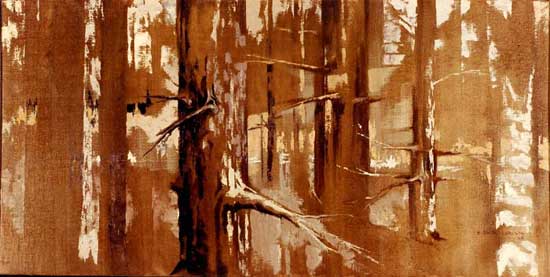 Journey to the East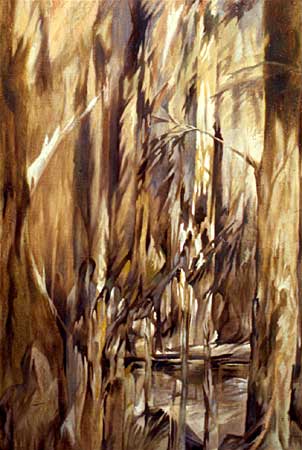 Crucifixion

Large format poster prints available
Painted the day of President Kennedy's assassination.
Collection of Walton Danforth Stowell, Harpers Ferry.
1963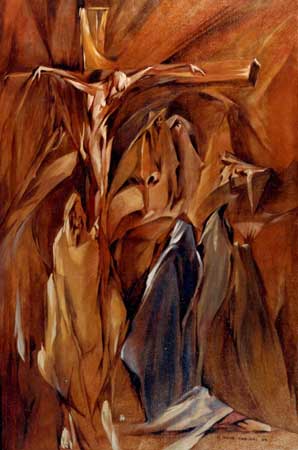 Medieval Reflections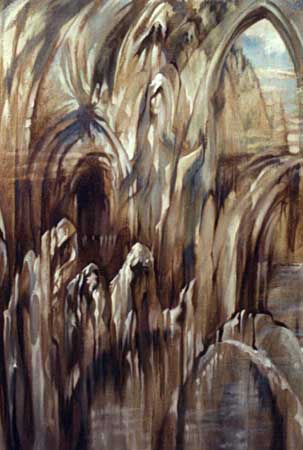 Warren's Tree

5' x 6'
oil on canvas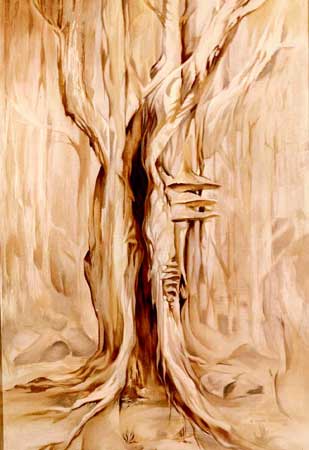 More tree paintings on our Landscapes page
and our Tree Paintings page.
Two Birches

20 x 24
oil on canvas
1982

Winds of Autumn

24" x 30"
oil on canvas
1985

Flower Pool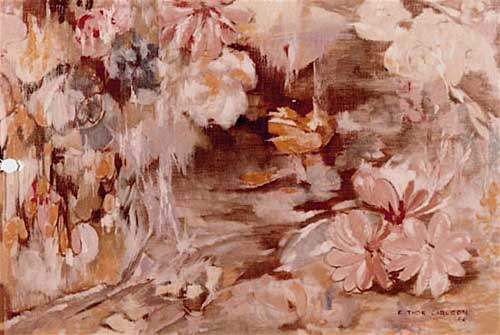 Irish Madonna and Child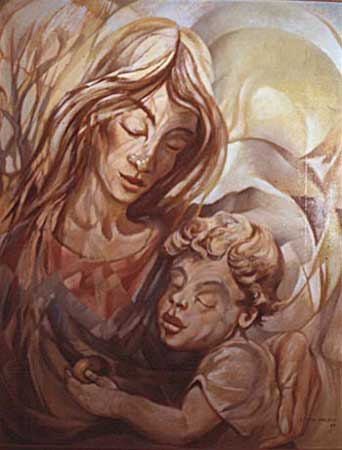 By the Waters of Babylon

This painting is developed from one of the psalms of David. I like the King James translation better than the others. It goes "By the waters of Babylon we sat and we hanged our harps in the trees, for how could we sing our songs" and, of course, this is about the Babylonian captivity. I think it is Psalm 22; however, it is different in different bibles.
16" x 20"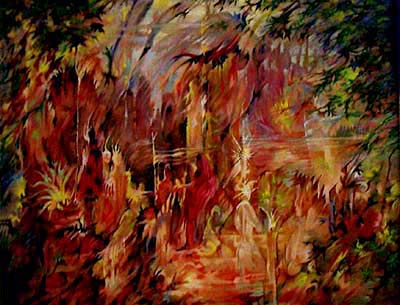 Bountiful Fruit

Bountiful Fruit is from a series of paintings I did of fruits and vegetables. I actually had real fruit and vegetables around set up for a painting class that I was teaching at the Fitchburg Art Museum and, in critiquing the works, I viewed the still life from many angles.

The next morning back in my own studio, I painted from memory, but took great liberties with what I had seen. I have used a kind of pointillist approach where the paint is put on in small amounts in a staccato pattern, and I usually tint my canvas first. I don't like to work against a white surface, so I usually color it and, in this case, the canvas was colored a very pale lavender and then all the colors were developed on top of it.

It was done quite rapidly, over no more than two days, in painting sessions of no more than three hours apiece. People are always asking me "how long did it take?" This was about six hours of work.
20" x 24"

Magic Forest

20" x 24"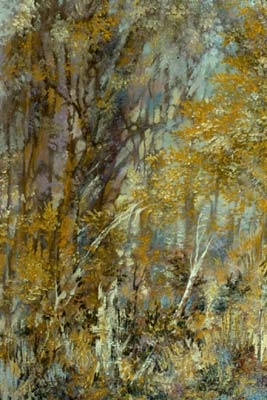 Woodland Stream
with Waterfall

Joe Pieweeds Walk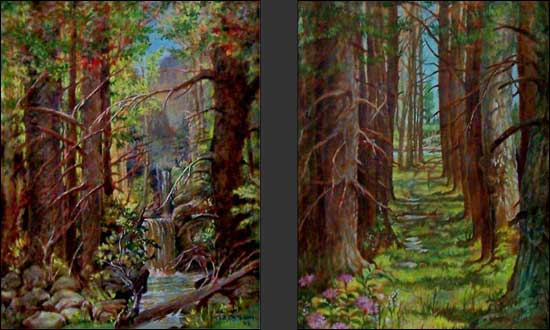 Both are from the Newport, NH area.
These paintings are framed and available from the studio.
Pair of framed oil paintings with silver gilt frames.
12 x 16 each canvas
1993
Evolution of an Oil Painting: Buddha Under the Bodhi Tree

This is an oil painting (now in a private California collection) that I did before moving to Newport in the late 1990's. This left-to-right sequence shows the evolution of the work in oils from beginning to completion. First, the grey scale underpainting is in water-diluted India ink. This was followed by a wash of burnt umber in diluted oil medium which, in turn, was followed by the glazing medium of the final image. Then came the final varnish coat. It is a very old way of working, and it often requires days of waiting for glaze coats to dry.

When it was developed, it was an alternate method of painting instead of the egg tempera or fresco techniques of the middle ages and early renaissance.

Today we have come back to water based media and paintings can be done with acrylic, which is the best of both worlds. It is water soluble and is easy to clean when mistakes are made. It dries quickly, allowing the artist to work with much more speed, especially with glazing and final varnishing. It is waterproof and can be cleaned with soap and water if it gets dirty. It eliminates toxic fumes and pigments.

After the Ice

Oil on canvas
Vincent Price Selection
1964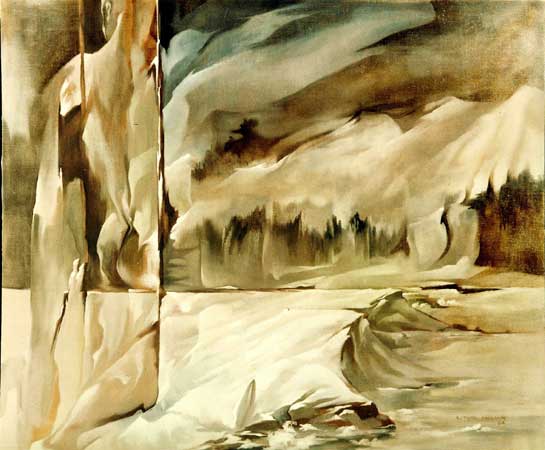 Annunciation

Oil on canvas
Vincent Price Selection
1964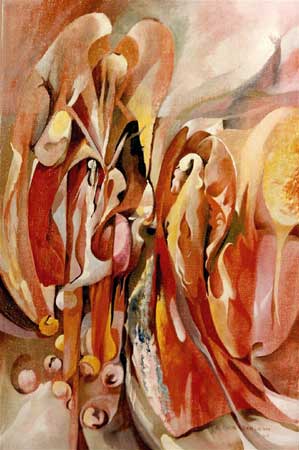 Multiple Figures

Large format poster prints available
Oil on canvas
Vincent Price Selection
1963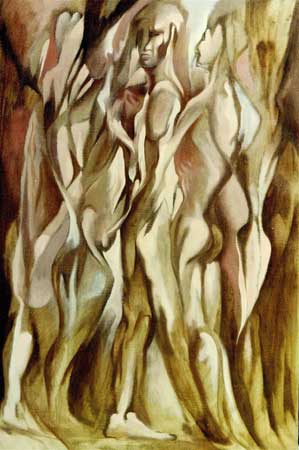 Dantian Masks

Oil on canvas
Vincent Price Selection
1964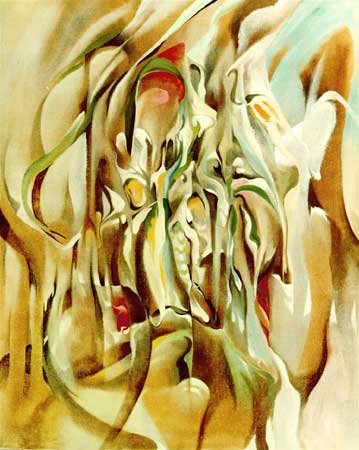 Iku Tursas

5 x 6 feet
Oil on canvas