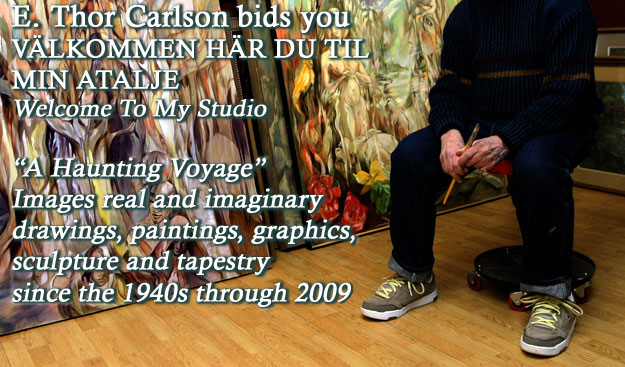 Photo by Marty McAuliff, Argus-Champion
E. Thor Carlson
Contemporary Fine Art
Fine art drawings, murals, pastels and sgrafitto,
paintings in oil, acrylic and watercolor,
sculpture in stone, wood and metal,
tapestry weaving and embroidery.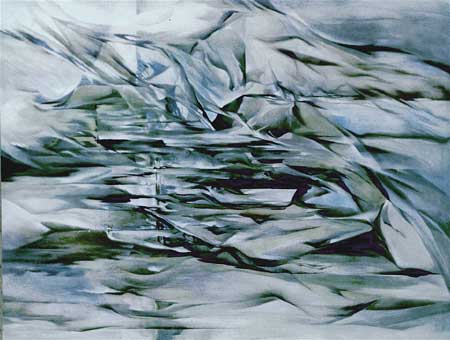 Nordic Memories
"Carlson's work is a haunting voyage into the icy realms of ancient northern mythology and the more passionate themes of the Old and New Testament. I particularly admire his designing of strange forms of landscape and figure, executed in a very sensitive palette."

-Criticism written in 1965, by Daniel Catton Rich, director of the Worcester Art Museum.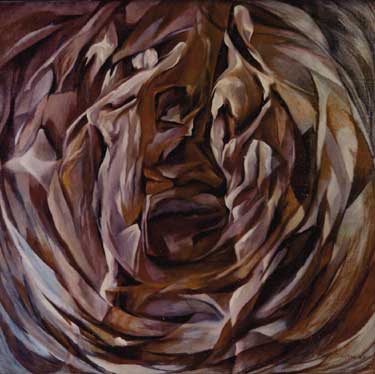 Lot's Wife
40" x 40" 1963 oil on canvas
Permanent Collection 1966 - Fitchburg Art Museum
I have drawn with pencil on paper for as long as I can remember. It is as natural to me as speaking. Almost all my visual images start as pencil drawings, usually without color.

These drawings are quite small and I do many variations of the ideas. I often set these aside and start on the canvas or go to the loom without referring to them. My consideration now is with color.

At some point later in the process I refer back to them, incorporating bits and pieces into the finished work. The whole process is right-brained and intuitive. I try to work in the alpha state and become a vehicle through which creativity flows. I can then be a facilitator of images.

I do not try to predict what the final image will be and I know that the viewer will see it quite differently than I do.

-E. Thor Carlson
Murals

Landscapes
Still Life
Floral Arrangements
Abstracts
Old and New Testament
Fantasy
Lord of the Rings Illustrations
Portraits
Sculpture
Tapestry
Some Thoughts on Visual Art as a Process
by E. Thor Carlson

I like to tell stories with images, some based on truth, some fictitious. I play cache-cache, a process of hide and seek, to delight the viewer with visual surprises, as well as to instruct. My pictures, drawings and other works are unrealistic representations with a quality that is almost hallucinatory.
I treat the landscape, architecture or figure schematically, devoid of atmosphere in real time, seemingly impelled by some hidden source. I do not arrive at this effect casually. I use conventional images in an unorthodox way to achieve effects of unreality so that a sense of urgency is conveyed to the view - this is not slavish illustration - for I disassemble and rearrange the elements of my story in a sophisticated technique that chooses visual ideas which will most enhance my representation.
Custom Search
Home - What's New
Site Search - Site Map - Contact Us

Copyright © 2007-2016 EThorCarlson.com.
All rights reserved.
Web site by Wild Goose Web Design